---
Molded by a commitment to educate for service, Elizabethtown College is a community of learners dedicated to educating students intellectually, socially, aesthetically, and ethically for lives of service and leadership as citizens of the world. As a comprehensive institution, the College offers academic programs in the liberal arts, sciences, and professional studies. Combining classroom instruction with experiential learning, these programs advance independent thought, personal integrity, and social responsibility as the foundations for a life of learning. Founded by members of the Church of the Brethren, the College believes that learning is most noble when used to benefit others and affirms the values of peace, non-violence, human dignity and social justice.
"I pledge to respect all members of the Elizabethtown College community, and to act as a responsible member of the College community. I pledge to respect the free exchange of ideas both inside and outside the classroom. I pledge to represent as my work only that which is indeed my own, refraining from all forms of lying, plagiarizing, cheating, and academic dishonesty. As members of the Elizabethtown College community, we hold each other responsible in the maintaining of these values."
– adopted in 1995 by Elizabethtown College students and faculty (revised in 2014).
Elizabethtown College does not discriminate on the basis of gender, race, color, religion, age, disability, marital status, veteran status, national or ethnic origin, ancestry, sexual orientation, gender identity and expression, genetic information, possession of a general education development certificate as compared to a high school diploma, or any other legally protected status. This commitment applies but is not limited to decisions made with respect to hiring and promotion, the administration educational programs and policies, scholarship and loan programs, and athletic or other College administered programs. Discrimination or harassment of any kind is strictly forbidden.
Any person having inquiries concerning Elizabethtown College's application of non-discrimination policies, including Title IX of the Education Amendments of 1972, Title VI of the Civil Rights Act of 1964, Section 504 of the Rehabilitation Act of 1973, the Americans with Disabilities Act of 1990, and the Age Discrimination Act of 1975,should contact one of the following:
Richelyn Penn Mekile, Director of Human Resources
203A Alpha Hall, One Alpha Drive, Elizabethtown PA 17022
mekiler@etown.edu or (717) 361-1406
Armenta Hinton, Equity and Title IX Coordinator
232 Baugher Student Center, One Alpha Drive, Elizabethtown PA 17022
hintona@etown.edu or (717) 361-1179
Lynne Davies, Director of Disability Services
228 Baugher Student Center, One Alpha Drive, Elizabethtown PA 17022
daviesl@etown.edu or (717) 361-1227
For further information on non-discrimination, visit www2.ed.gov/about/offices/list/ocr or contact the Philadelphia Office of the Office for Civil Rights, U.S. Department of Education, Suite 515, The Wanamaker Building, 100 Penn Square East, Philadelphia, PA 19107-3323, OCR.Philadelphia@ed.gov or (215) 656-8541.
Elizabethtown College engages students in a dynamic, integrated learning process that blends the liberal arts and professional studies. Challenged to take responsibility for their education, students at Elizabethtown embark on a journey of self-transformation that involves intellectual, social, and personal growth.
The College is committed to educating the whole person within a relationship-centered learning community where common goals are achieved through engagement in a rigorous academic curriculum and thoughtful co-curricular experiences. Students are encouraged to develop and challenge their own values, while seeking to understand and appreciate alternative perspectives. Embedded in an ever-changing global context, the College promotes the developmental, collaborative and complex nature of learning.
In seeking to "educate for service," Elizabethtown College believes that students can perform no greater service than they do when sharing knowledge and creativity with others. Opportunities to strengthen scholarship and leadership extend beyond the classroom, and students learn actively through practical experiences and civic engagement.
The impact of an Elizabethtown College education is long lasting and far-reaching because it is deeply transformative. Students acquire new habits of mind and heart–some in the course of the undergraduate experience, others as students grow beyond college.
At Elizabethtown College, students are inspired and challenged to:
Assume responsibility for their intellectual development, personal growth and well-being. Students will learn to sharpen their curiosity and become aware of the capabilities, strategies and resources needed to learn.
Reason, analyze and engage in critical thinking. Students will make, systematically evaluate, and, if necessary, refute arguments and claims—both their own and those of others.
Demonstrate thoughtful and articulate communication by applying knowledge in a variety of contexts, including writing, speaking, listening and interpretation.
Understand the creative process and its role in human expression, and cultivate the ability to make informed aesthetic judgments.
Navigate diverse cultural worldviews and perspectives, with the realization that differing frames of reference influence analysis, communication and behavior.
Make reflective ethical decisions and act with integrity to seek just outcomes with relationships, communities and society.
Apply and integrate different strands of learning and comprehend interconnections in the process of gaining knowledge and experience.
Identify and cultivate a sense of purpose that inspires a commitment to meaningful work in service to society.
Elizabethtown College is committed to valuing and fostering the diversity reflected in our life together and in the world beyond our campus. We strive to ensure that the members of the community–students, faculty, staff, and administrators–are diverse in race, ethnicity, sexual orientation, socioeconomic status, religion, ability, gender, gender identity and expression, age, and national origin. We also seek to provide our community members, especially our students, with educational opportunities, programs, and services that are multicultural in content and expressive of a diverse life of experiences and worldviews that underrepresented groups bring to the learning environment.
The College's commitment to maintaining and growing a diverse community of education is an integral part of principled efforts to achieve academic excellence and to educate our students for service to humanity and the world. Guided by this commitment, the College affirms the following three principles:
Diversity in our educational life promotes learning and academic excellence. One of the most significant practices required for achieving academic excellence is direct engagement with multiple sources of knowledge, worldviews, experiences, and skills. A truly liberal–and excellent–education is neither parochial in content nor singular in perspective but comprehensive in its attention to the rich facts, insights, and attributes of our diverse social world.
Diversity in our social life prepares us to participate in a global community. Familiarity with the diverse identities, beliefs, and practices found in our global community provides a strong foundation for undertaking effective and constructive work in the world beyond our campus. We serve our community members well not by creating a campus marked by uniformity, but by offering them the social diversity that is characteristic of our increasingly interdependent world.
Diversity in our campus life models our institutional commitment to social justice, human dignity, and peace. By becoming a diverse community, we provide access and equal opportunities for individuals and communities who have long been excluded from mainstream society. And this allows us to create the understanding of difference that is required for building a just and peaceful world.
Board of Trustees
The Board of Trustees has final legislative authority in all matters pertaining to the purpose of the College and the policies for fulfilling the statement of purpose. Among the Board's primary functions are selecting the president of the College, developing and sustaining the philosophy and policies of the College, setting the costs of tuition and fees, adopting the annual budget, and approving plans for developing and maintaining the physical plant.
Faculty Assembly
The Faculty Assembly consists of full-time instructional personnel, the President, Provost and Senior Vice-President, Dean of the Faculty, Dean of Students, and full-time librarians.  The president, vice-president, secretary, and treasurer of the Student Senate may participate in meetings of the Faculty Assembly, without vote. The Faculty Assembly has the primary responsibility for determining requirements for admission and graduation and for approving candidates for degrees. The Faculty Assembly also has the primary responsibility for establishing policies and standards for curricular and other aspects of the academic program of the College.
Student Senate
The Elizabethtown College Student Senate is comprised of 48 members, 12 from each class. The purpose of Student Senate is to advocate for student rights on campus, and to bring student voices and ideas into the process of improving the Elizabethtown College campus and community. All student clubs and organizations seeking college support or the use of college resources must register with Student Senate every year. The Dean of Students is the advisor.
Student Senate meetings are open to anyone in the college community and are held on Thursdays at 3:45pm in Hoover 212. Contact information is:
Location:    BSC 244
Website:    www.etownsenate.com
Facebook: www.facebook.com/EtownSenate
E-mail:       Senate@etown.edu
Elizabethtown College Organizational Chart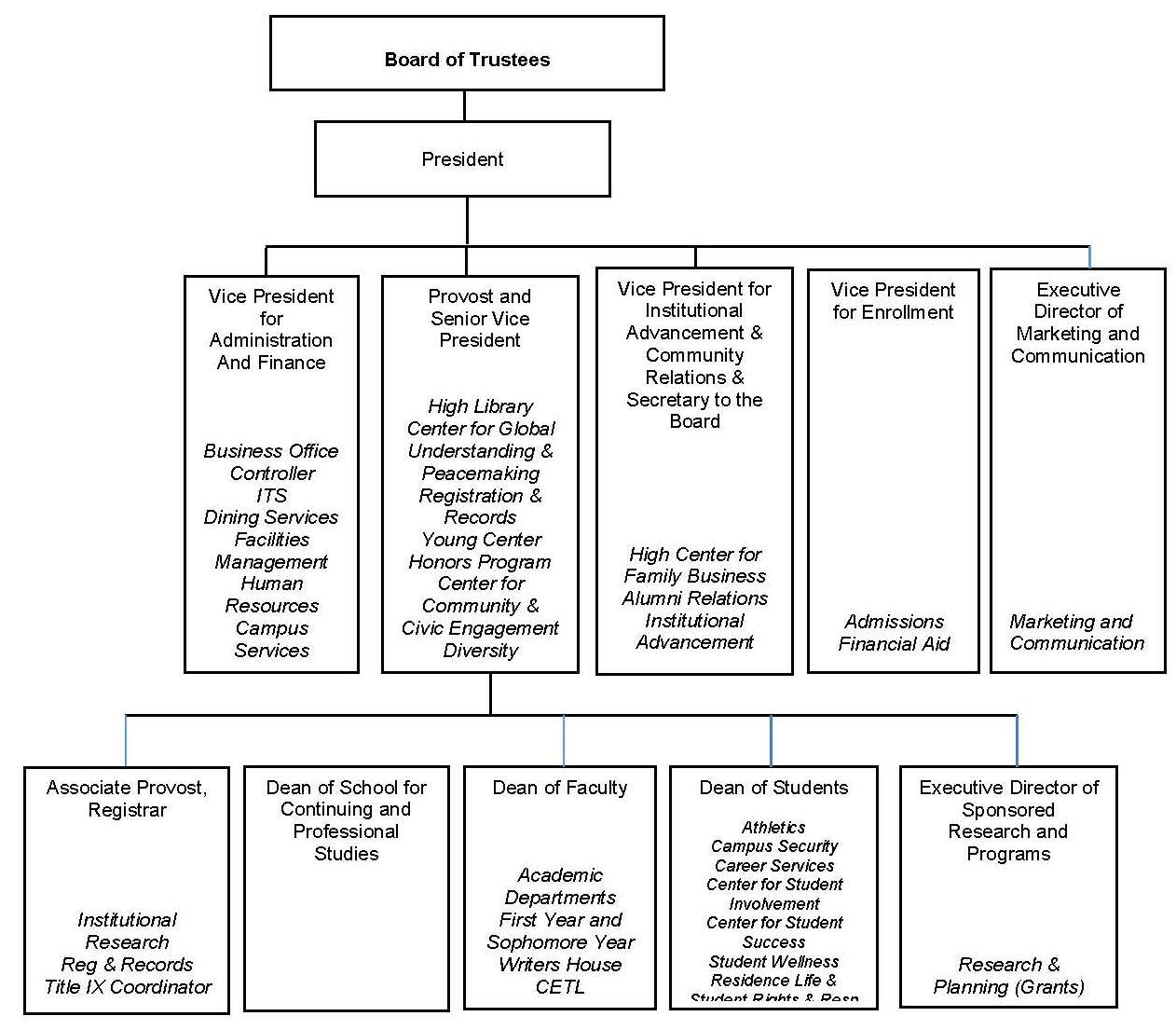 Campus Councils and Committees
Academic Council

Proposes academic policy and oversees the curriculum and the quality of the academic program.

 

Academic Occasions

Recommends policies and procedures and designates responsibility for commencement, convocation, and other academic occasions.

 

Academic Review Committee

Conducts hearings on cases of alleged violations of the standards of academic integrity.

 

Academic Standing Committee

Conducts periodic review of academic standards and academic dismissal procedures and makes recommendations to the Academic Council.

 

Athletics Committee

Recommends and interprets policies regarding inter-collegiate and advises the Director of Athletics in implementing athletic programs.

 

Campus Life Council

Consists of representatives of the faculty, student body, and administration who plan and implement the annual student awards ceremony.

 

Core Program Committee

Recommends policies related to core program and advises the Provost in matters of staffing, implementing, and funding of the Core curriculum.

 

Cultural Events Planning Committee

Plans and carries out a coherent series of evening lectures, Wednesday-at-11 programs, and cultural events each year consistent with the mission of the College, attractive to the campus and local communities, and pertinent to the educational program of the College.

 

Educational Assessment Committee

Ensures that student learning is regularly and skillfully assessed and that the results of these assessment activities are used to strengthen the educational program and inform resource allocation across the institution.

 

Honors Committee

Advises the Honors Program Director in overseeing the program, including the selection and ongoing evaluation of Honors Program participants, determining criteria for Honors credits and courses, selecting and evaluating Honors courses, and making policy decisions.

 

Parking Appeals Board

Reviews all parking ticket appeals; meets monthly.

 

Religious Life Committee

Responsible for planning campus-wide program­ming and serves as a consultant group to the Office of the Chaplain.

 

Strategic Planning Committee

Reviews the progress of the Strategic Plan, advises the President on strategic priorities and any proposed changes to the Plan, reviews proposed major facilities or budgetary changes, makes recommendations to the President, Provost and Senior Vice President and Vice President for Finance for annual strategic budget considerations. One student representative is elected by Student Senate and one is appointed by the Dean of Students.
The unlawful possession, use, or distribution of illicit drugs and alcohol by students and employees is not permitted by Elizabethtown College. The College adheres to the Drug-Free Schools and Communities Act Amendments of 1989.
Violations (e.g., possession, sale, use, transfer, purchase and/or delivery of illegal drugs or drug paraphernalia) will result in a student conduct referral. Refer to the Student Code of Conduct  for information on the conduct process and disciplinary sanctions.
In addition to the College's disciplinary sanctions, violators are subject to legal sanctions under local, state, or federal law. The College recognizes drug abuse not only as a safety and security concern, but as an illness and major health problem. Consistent with the concern related to all life threatening illnesses and serious diseases, the College offers a range of resources and services as follows:
Student education and information is available through the Dean of Students' Office.
Counseling and support services are available through Counseling Services.
Referral to agencies and organizations which offer supportive services is available through Student Wellness, as well as other Student Life offices.
As required by law, Elizabethtown College is obligated to provide a drug-free, safe, healthful, and secure workplace for all employees (including student employees). In turn, our employees are expected to arrive for work in proper mental and physical condition.
The College has a zero tolerance policy for disruptive behavior, unsafe conditions, or unsatisfactory work performance resulting from alcohol or drug use. Violations of this policy will result in disciplinary action up to and including termination of employment, or referral for prosecution or other legal consequences. The College prohibits the unlawful sale, manufacture, distribution, use, dispensation, or possession of a controlled substance on College property or while conducting College business off the premises.
Under the Federal Controlled Substance Act and Pennsylvania state laws, individuals face penalties for unlawful manufacturing, distribution, use and possession of controlled substances. The penalties vary based on the type of drug or level of alcohol involved, possession and intent to distribute. Federal law sets penalties for the first offense ranging from one year to life imprisonment and/or $100,000 to $4 million in fines. Penalties may include forfeiture of property, including vehicles used to possess, transport or conceal a controlled substance or denial of federal benefits such as student loans and professional licenses. Convictions under state law may be misdemeanor or felony crimes, with sanctions ranging from six months to life imprisonment and/or $250 to $100,000 in fines.
Federal law holds that any person who distributes possesses with intent to distribute, or manufactures a controlled substance in, or within one thousand feet of an educational facility is subject to a doubling of the applicable maximum punishments and fines. A similar state law carries sanctions of up to five years imprisonment and up to a $100,000 fine for similar violations.
Elizabethtown College is dedicated to providing a healthy, comfortable, and productive work and living-learning environment. Campus buildings are smoke-free. Smoking and the use of tobacco in any form is prohibited in all facilities of Elizabethtown College at all locations, including College vehicles. Additionally, the Baugher Student Center terrace areas, all athletic venues and outdoor classrooms are smoke-free zones. This policy applies to all students, employees, clients, contractors, and visitors. Smoking shall be permitted only at a reasonable distance (20 feet or more) outside any enclosed area or building entrance so as to ensure that secondhand smoke does not enter the area through entrances, windows, ventilation systems, or any other means. Smokers must dispose of cigarette butts in appropriate receptacles rather than littering.
Elizabethtown College typically will communicate with traditional students through their College-issued student mail boxes and via e-mail through the Campus Connections system. On some occasions, a College representative also may contact a student by sending a letter through U.S. mail to the student's home address or by calling the student's home telephone number. Students should check these modes of communication frequently for important information from Elizabethtown College.